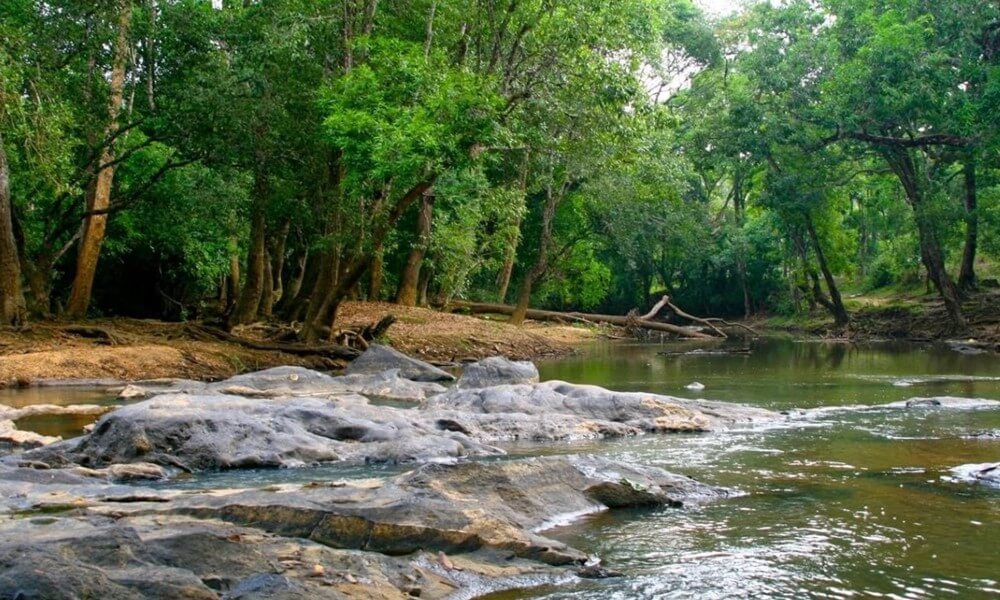 Kuruva Dweep wayanad (Kuruva Island)
 Kuruva Dweep wayanad (Kuruva Island) is a famous tourist place in wayanad , Kuruva Island is a group of islands located in the middle of east flowing Kabani River. Kuruva islands is also known locally as Kuruva Dweep.This 950-acre tract of uninhabited land is rich in flora and fauna. This island is isolated but an array of uncommon species of birds,herbs and orchids are the monarchs of Kuruva Island.The specific geographical characteristics of Kuruva Island make this place very calm and the forests are always evergreen. These mind blowing characteristics have made this place attractive to the tourists who are nature lovers or travelers who love silent atmosphere. Other unique characteristics of these islands are the bridges made of bamboo and rare species of trees. It is a must see destination for nature lovers and a popular picnic spot. A perfect destination for those want to have a lazy walk through the shoreline of a river.Its unique geographical characteristics make it a place where not only the leaves but also silence is evergreen being away from cities and thus it has become a place of attraction.
As many as three hour is needed to cover at least one island. Entry to this island is restricted by the Forest department and monitored by Vana Samrakshana Samiti a pass is mandatory, during rainy seasons and the frequencies of animals are higher.There is water stream covers the islands on all the sides. The area is completely covered by tall trees and for tourist this is mainly a Jungle walk below the shades of trees and side of bamboo bushes. The full track inside Jungle track is prepared with rest rooms, huts and benches for the tourists. This is a flat walk without any climbing inside green forest. Walkway bridges are prepared using Bamboo for the tourist to cross small streams of water flowing during rainy seasons.
This island "Kuruva Dweep" is 15kms away from Mananthavady, 58kms from SulthanBathery and 40kms from Kalpetta. Frequent bus services are available from Manathavady to visit this tourist place of Kuruva Islands.From Mananthavdy covering Kattikulam, Kurukkan Moola, Palvelicham one can reach Kuruva. The ticket counter of DTPC is here. The tourists would be brought to island in the fiber boat from here. If one is coming via Sulthan Bathery, Kuruva can be reached covering Kenichira, Nadavayal, Punchavayal, Pakkam. From Pakkam there is route in the right direction, which leads to the forest. By covering a distance of 4 kms one would reach the southern part of Kuruva. Here too is a ticket counter of forest department and can enter Kuruva in the bamboo raft.
By road: There are bus services to Kuruva from Mananthavady via Changalagate, Kurukkanmoola and Palvelicham.
Alternate route to reach the opposite entrance: From Pulpally thorugh Pakkam. The bus stop to Kuruva is Puzhakkara Devi Temple. 
Obey the instructions of staff
Wear life jackets dueineg boating
Swimming and bathing in the river is strictly prohibited
Use of plastic carry bags, food items, drinks etc strictly prohibited
If there is unusual inflow of tourists or some climate changes, both counters may close at any time
Warning boards are there for the visitors to follow guidelines and not to venture into the water.
Tourist places near Kuruvadweep
Thirunelli Temple

Pazhassi Raja Tomb

Banasura Dam

Jain Temple