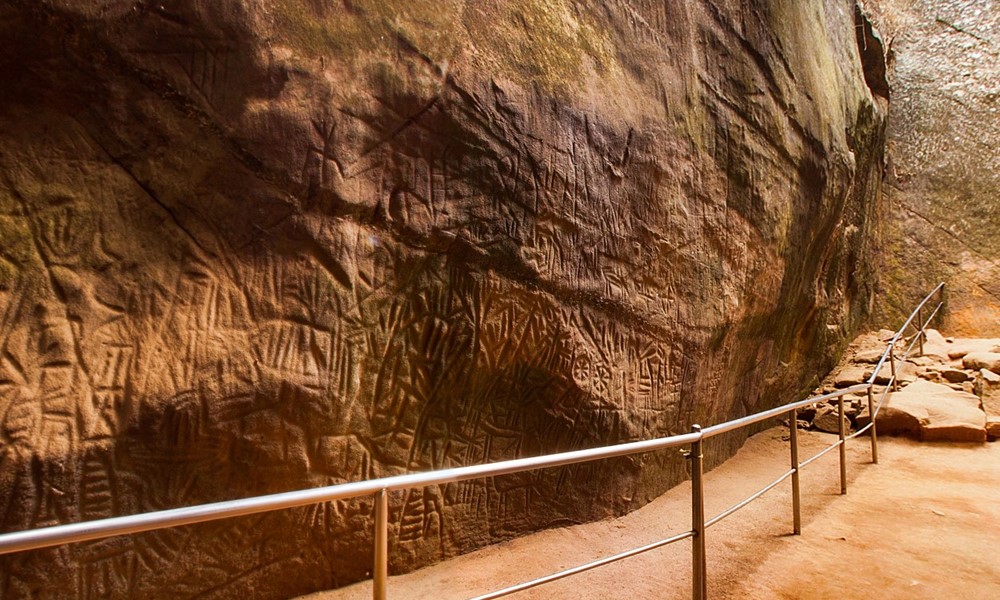 Edakkal Caves
Edakkal Caves which are believed to have been formed around 8000 BC is famous for the pre-historic Edakkal literally translates into 'a stone in between' in Malayalam. According to popular legends associated with Edakkal, the caves were formed at the point struck by the arrows fired by Lava and Kusha, the twin sons of Lord Rama. The caves are on the Ambukuthi Mala at a height of 1000 meters. The big boulders are balanced on two relatively smaller boulders. Inside the caves are pictorial writings believed to be from neolithic man, evidence of the presence of a prehistoric civilization existing in this region.
The caves still remain a mystery to the archaeologists. The carvings are of Neolithic Age and Mesolithic Age. There are human and animal figures carvings on the rock walls depicting pre-historic period and civilized people. The caves preserves prehistoric rock engravings including a human figure with headgear, a human figure on wheeled cart, images of a tribal king & queen, a deer and an elephant. Such stone age carvings are very rare and these are the only known examples in southern India. The caves were discovered by the then Superintendent of Police of Malabar, Fred Fawcett. The place attracts many historians and archaeologist from around the world. Edakkal cave is 25 kms from Kalpetta and just 3 kms from Ambalavayal.The mountains are ideal for trekking. The caves are a popular tourist attraction. The town is easily accessible. The best visiting hours are morning.
How to Reach:
Nearest Railway Station: Kozhikode, about 97 km from Sultan Bathery
Nearest Airport: Karipur international airport, about 23 km from Kozhikode.
Bus station :Ambalavayal, 12km from SulthanBathery
Edakkal cave in Wayanad is the only place in India where you can find Stone Age Carvings which includes figures of human beings, animals, ancient weapons, ancient stone scripts, and other symbols.
The Edakkal Cave is a double chambered naturally formed cavern whose lower chamber is 18 feet long and 12 feet wide while the upper chamber has a length of 96 feet with a width of 22 feet.
These Carvings belongs to the Neolithic and Mesolithic age which date back to the 6000 BC.
One can find three types of petroglyphs at the Edakkal Cave in which the oldest ones date back 8,000 years.
Edakkal Cave is an amazing trekking spot in Wayanad that attracts swarms of trekking enthusiasts every year.
Famous for:  Neolithic Settlements, History, Photography, Trekking, Hiking.
Entrance Fee: 20 per head (extra charges for still and video cameras).
Visiting Time:  10 AM to 6 PM.
Visit Duration:  3 to 4 hours.
Comfortable shoes are highly recommended for the Edakkal Caves trekking. Light cotton clothes during summers and a light shawl in the winters is sufficient for a comfortable climb.
Beware of monkeys, especially when you are walking from the parking bays to the base of the Edakkal caves staircase.
Tourist places near Edakkal Caves
Wayanad Heritage Museum
Phantom Rock
Neelimala View Point
Jain Temple
Soochippara Waterfalls