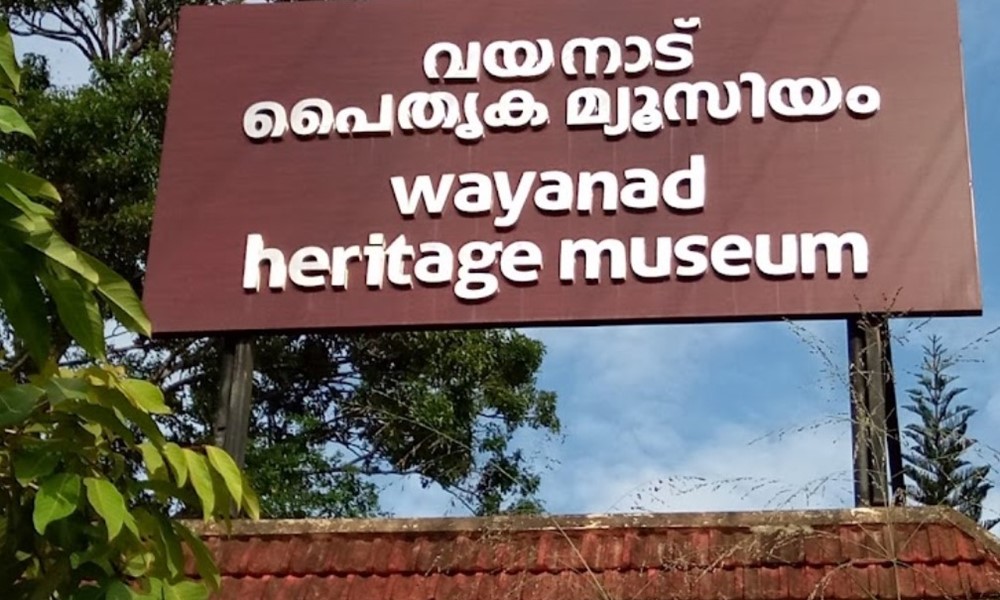 Heritage Museum Ambalavayal Wayanad
Wayanad Heritage Museum, also known as Ambalavayal Heritage Museum is a museum at Ambalavayal, 12 km south of Sulthan Bathery, in Wayanad district, Kerala, India. It is managed by the District Tourism Promotion Council. It has one of Kerala's largest collections of the remnants, dating back to the second century. The museum houses various interesting artifacts revealing the history, culture and heritage of the Wayanad region. The Museum displays tribal relics and artifacts. Four sectors of the museum—the Veerasmruthi, the Gothrasmruthi, the Devasmruthi, and the Jeevanasmruthi—house different types of items ranging from the Neolithic age to the 17th century, including artifacts from ordinary tribal life, decorated memorial grave stones once used to adorn the graves of heroes, and terracotta figures.
The museum has four blocks to explore – the galleries of Veerasmruthi, Devasmruthi, Gothrasmrithi and Jeevasmrithi. The Veerasmruthi gallery includes rock edicts that were erected on tombs of warriors and prominent figures who were known for their heroic acts. The Gothrasmrithi and Jeevasmrithi galleries display articles associated with tribal life, like headgears, jewellery, hunting and fishing weapons, cowbells, farming implements and musical instruments. 
The artefacts exhibited in the Devasmruthi gallery are from the Neolithic age featuring stone idols, terracotta figurines and local artwork. There are still tribal communities settled around the region, who have direct ancestral link to the Neolithic age. The museum also exhibits a rare collection of tribal relics from the 14th -15th century, that includes stone weapons, carvings, pottery, clay sculptures and carefully moulded idols.
Why Visit Heritage Museum Ambalavayal
Archaeological museum offering exhibits of tools, weapons & pottery dating from the 2nd century CE.
This place will interest you and put you in touch with your roots.
Heritage Museum Ambalavayal 360° View
The museum is situated about 12 km away from Sultan Bathery at Ambalavayal.
You can get direct buses from Sulthan Bathery to there. Sultan Bathery is connected by most buses to most of the nearby cities of Wayanad and adjacent districts.
The nearest railway station is in Kozhikode from where there are direct buses to Sulthan Bathery or Kalpetta.
Tourist places near Heritage Museum Ambalavayal
Edakkal Caves
Sunrise Valley Viewpoint
Ancient Jain Temple Wayanad
Soochipara Waterfalls
Kanthanpara Waterfalls
Chethalayam Waterfalls